DYM Beer Brewing Solutions
Our team(DYM Brewing Solutions) actually started building big breweries in China since early 1980's. The team joined Dalian Yongsheng in the year 2009 and entered oversea markets focusing on brewing equipment of craft breweries then.
Now we have more than 200 customers all around the world: North America, South America, Asia, Europe and Africa, half of them are from US. Our product catalog has brewing system, cellar vessels as well as brewery accessories, kegs, kegging machine, growlers, caps, plastic cups, metal stools, etc.
Reliable Quality
Quick Response
Affordable Price
Beer Brewing Equipment Manufacturers
Our Commitment To Service
The right choice for your customized brewing equipment.
Customized Design

Our product includes a variety of large, medium and small brewery equipment, hotel, bar beer equipment, and could be used to brew various types of wine, beer, barley-bree (whisky) brandy. Of course, we can customize according to customer required special specifications design.

Quality Control

Using high quality 304 stainless steel materials. All auxiliaries and accessories are selected domestic and international famous brands to gurantee the whole equipment quality and working life time. The welds are beautiful.

Fast Delivery

We provide an estimated shipment date in budgetary proposal and when you place your order. Your Project Manager will provide on-going updates throughout the project leading up to your target ready to ship date. We can be resonsible for the shipping.

Excellent After-sales Service

DYM Brewing Solutions provide guidance, installation and technical support for customers, and establish a special project file to track service, provide 24-hour technical support.
DYM has always provided me with the superior service that one can only hope for. I have been working with them directly for 5 years and have never been disappointed. Their customer service is great... Their engineering is great... Their fabrication is great. They are truly an invaluable resource not to be overlooked.--Brewtal Industries

We are very satisfied with our tanks with no issues to date. No tank sweating, poor fabrication, or weld failures. We have not had any unsatisfactory or sanitary issues. We are satisfied with the product and will continue to order from DYM.

We couldn't be more impressed with the quality and service Wang and his team have provided us. DYM engineers had no problem drawing and executing our custom tank design, which no one else would do. All of our tanks came outfitted with high quality fittings, valves, and carb stones. The welds are beautiful, and these fermenters are a real showpiece.

Having bought and operated several brewing systems now for our production brewery and brewpubs, we are continually impressed with the quality and customer service provided by DYM Brewing Solutions. They're adaptable and very willing to work with you to make sure you get exactly what you're looking for at very competitive pricing--Ryan Maloney (Brick Works/Mispillion)
We believe "customer first, quality foremost" and will lead our clients to create a more splendid future with our constantly had working, best service and the reasonable prce.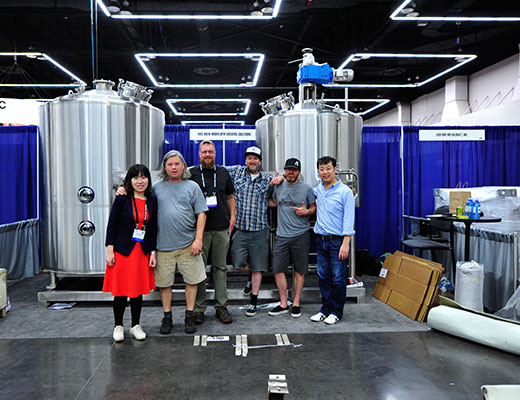 Craft Brewers Conference
May 2 – 6, 2016 | Philadelphia, PA
DYM visited the United States and attended the 33rd Annual Craft Brewers Conference and BrewExpo America in Philadelphia in May 2016.
Our 35hl and 70hl beer fermentation tanks have been shipped on board on 17th Nov, 2021

Good news from our customer that their brewery has been constructed completely. They can transport tanks to their brewery. We finished booking liner, washing tanks and loading containers within the shortest time. Now all the tanks have been arrived at destination port and will transport to customer's brewery.

200hl beer storage tanks!

If you're interested in getting info or knowing more about DYM's brewing equipment, please contact with: Jessica Zhao www.dymbrewing.com Mobile: +86-139 4086 7350 Email: jessica.z@dymbrewing.com

6HL beer fermentation tanks and 20HL bright beer tank were finished and will ship to customer.

After 45 days of production, our team finished the fabrication of 6 pcs of 6HL beer fermentation tanks and 1 pc of 20HL bright beer tank. All the tanks have been finished the quality inspection before loading yesterday. We also measured each ports, manway and height of tank, in order to make sure everything is the same with drawing. We have sent the final photos to customer and waiting for the feedback.
We are the preferred supplier of commercial equipment for craft brewing customers around the world. At DYM we take pride in being a customer's best resource for the planning, design, fabrication, management, and successful execution for each unique brewery project.